A Friendship from Gary to Kathi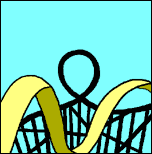 He:
Arrogant
Experienced
Talkative
Emotionally Closed
She:
Arrogant
Naive
Talkative
Emotionally Open
Together:
EXPLOSIVE!
Sharing
Fighting
Challenging
Depth of All Depths
CRAZY!
What have we had really?
A Friendship?
A Combat?
A Comedy of Errors?
A Closeness?
A Roller Coaster?
A Hard-Knock Learning Experience?
Some Fun?
Would you call it Intimate...
-or-
Would you call it Nuts?
The only true answer:
All of the Above.
Thank you for sharing your life with me, if even for but a brief moment.
It has changed me forever.