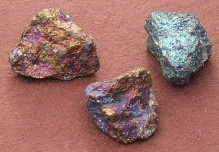 Peacock Ore
Derivation: Named after its shimmering colors, much like a peacock's feathers.
Description: The iridescent colors are on the surface, as a tarnish. They include green, yellow, blue and reddish-purple. The mineral is opaque.
Peacock ore has several other names: bornite, erubescite and variegated copper ore. Peacock Ore is an old miner's term, and it seems the best name. "Iridescent" means "like a rainbow." It is an important copper ore.