Quartz

Quartz is one of the most abundant minerals on earth. It can be found in many different forms almost everyone on earth. It is classified into two types: crystalline and cryptocrystalline.
Crystalline Quartz: This is quartz that occurs in distinct crystals. Its varieties are separated by color.
Amethyst: purple quartz. Its colors range from pure lavender ("Rose-de-France" amethyst") to deep purple with red highlights ("Siberian amethyst"). When exposed to sunlight for long periods, amethyst can fade in color.
Citrine: yellow to brown quartz. Its colors range from pale yellow to rich golden yellow to dark orange. Darker colors are most prized (such as the medium golden orange "Rio Grande" citrine and the dark sherry-colored "Madeira" citrine.
Ametrine: this is a combination of amethyst and citrine within a single crystal. Such bi-colored stones are fairly unusual and can be quite striking in appearance.
Vermarine (or Prasiolite): "Greened" amethyst. Produced by careful heating of one type of amethyst from Brazil.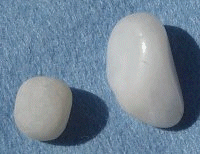 Rock Crystal: clear, colorless quartz.
Rose Quartz: pink quartz.